Chrysler Hall is a performance arts theatre in Norfolk, Virginia and is home to the Virginia Symphony Orchestra, the Virginia Ballet, Norfolk Forum, the Virginia Arts Festival and hosts Broadway plays. It is also Norfolk's main concert venue with a capacity of 2,500.
Click here for a listing of the upcoming concerts at the Chrysler Hall.
The hall was built in 1972 and also contains a studio theater in the lower levels of the building which is the home of Generic Theater. There are concerts and events all year round at this beautiful venue.
Chrysler Hall is a nationally recognized arts and cultural venue that aims to enrich life in Norfolk, and is owned and operated by The City of Norfolk.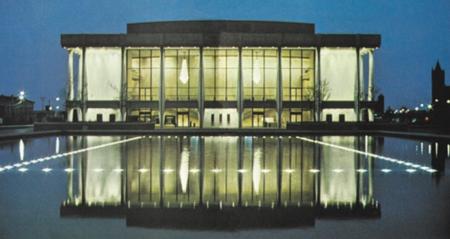 Located in the downtown area of Norfolk, Chrysler Hall is the town's primary theatre and venue for concerts and hosts events from orchestral performances, ballet, plays and musicals, to contemporary music concerts, kids shows and comedians. The hall serves as a cultural focal point for the city. In addition to the main theatre, Chrysler Hall also contains a studio theatre in the lower parts of the complex and then is the home of the Generic Theater.
In addition to the above, the hall also has 10 meetings rooms, a dressing room for receptions, main and side lobbies, a hall for formal gatherings and for dances.
When attending Chrysler Hall please note the following:
The box office opens an hour before show start. The house is due to open 30 minutes before show start.
Cameras and other recording equipment is not permitted.
Children under two years old are allowed free entry when on laps for most events unless stated otherwise.
Children under six are not permitted for Virginia Arts Festival Events.
Disabled seating is available and for use by individuals with disabilities along with their guests. Use of these disabled seating by individuals who are not disabled is prohibited and can result in ejection from the venue and/or forfeiture of tickets. Please contact the Disabled Services Department prior to a show if you have bought a ticket but cannot attend.
Chrysler Hall provides signed performances for the deaf and hard of hearing for selected events. These interpreted performanes are not guaranteed for all events but the hall does try to accomodate for each request made when given advanced notice. Assisted hearing devices are made available for selected shows with advance notice. Please contact 757 664-6980 which is the number for the box office for more information.
Service animals are welcome and if you need space for your animal pelase contact the ticket office on 757 664-6464.
Disabled parking for patrons is available and can be found at the front of the Box Office in the Scope Garage which has it's entrance on St. Paul's Boulevard.
Main parking is the Scope Garage (entrance on St. Paul's Boulevard, the Brambleton Lot, the entrance for which is across the street from Chrysler Hall, and the MacArtthur Center North Garage with entrance being located at 500 City Hall Avenue next to Nordstroms.
You can find out more about Chrysler Hall here.