Tuesday, November 27 at 8:00 PM
Wednesday, November 28 at 8:00 PM
Thursday, November 29 at 8:00 PM
Friday, November 30 at 8:00 PM
Saturday, December 1 at 2:00 PM
Saturday, December 1 at 8:00 PM
Sunday, December 2 at 1:00 PM
Sunday, December 2 at 6:30 PM

Mary Poppins The Hit Broadway Musical tours across the country and is coming to Chrysler Hall.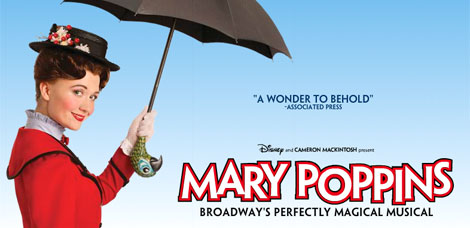 The classic Disney film Mary Poppins has a breathtaking new Broadway production that is receiving rave reviews:
"Among the VERY BEST of the long-running hits. MARY POPPINS is an ABSOLUTE FEAST, one of the most BEAUTIFUL productions of the past decade!" – New York Post
"Nobody does magical entertainment like Disney – except Cameron Mackintosh. The two have teamed up for a MARY POPPINS that's a ROOF-RAISING, TOE-TAPPING, HIGH-FLYING EXTRAVAGANZA!" – Daily News
"IRRESISTABLE! A fresh fountain of youth that will make many a grown-up feel like a kid again!" – USA Today
"Four Stars! A Super Hit!" – New York Post
"THIS IS MAGICAL STAGECRAFT! SPLENDIFEROUS production numbers and extraordinarily detailed sets and costumes contribute to the LUSH GRANDEUR OF A REAL BROADWAY MUSICAL – the kind we haven't seen in a long time!" – The Journal News
Open Captioning available for the Saturday, December 1, 2:00pm performance.